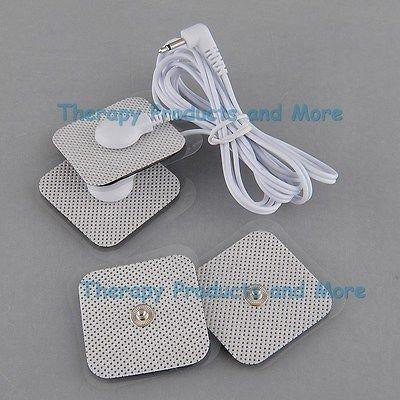 Omron HV-F124, HV-125, HV-126, HV-F002A Compatible Cable with 4 Square Massage Pads
---
Electrodes are Reusable
They wipe clean with a damp cloth.
Measurements are: 5 cm by 5 cm or about 2" by 2".Snap Connect diameter is 3.5mm 
Includes 4 Pads (2 sets). Each set (2 pads) is packaged in a resealable storage bag.
Note:Please be sure your model has 3.5mm jack, works with models with 3.5mm jack-will not work with PM3031 Model
 
HERE IS A FULL LIST OF MODELS THAT THIS CABLE IS COMPATIBLE WITH(NOTE-CABLE IS COMPATIBLE W/ SUPPLIED PADS IN THIS AD )

PM3030,
HV-F127,
HV-F128
HV-F124,
HV-F124P
HV-125,
HV-126,
HV-F002A
HV-F115
HV-F116
HV-F122


These electrode pads can be used for areas of the body that are flat, like back or thighs. They are great quality and come with a thick layer of non-irritating conductive gel that adheres well to your skin, but leaves no sticky residue when the electrodes are removed
Thank you and have a wonderful day! 
---
Share this Product
---
More from this collection