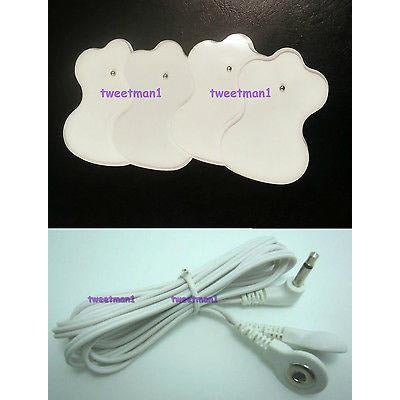 OMRON HV-F128 -- Compatible Lead Cable/Electrode Wire w/ 10 ELECTROTHERAPY PADS
---
COMPATIBLE 3.5mm QUAD 4 SNAP LEAD CONVERTER CABLE 
(4 Snap on Connection Lead)for OMRON HV-F124, HV-F158E, HV-F124P, HV-F125, HV-F126, HV-F127 HV-F127, HV-F128, PM3030 w/ (10) ELECTRODES

Note:Please be sure your model has 3.5mm jack,
works with models with 3.5mm jack-will not work with PM3031 Model

Once you replace your Omron Cable with this cable, the Electrodes I sell are much more cost effective, and you will save a SIGNIFICANT AMOUNT OF MONEY using these pads instead of the Proprietary Omron Brand Pads. 
HERE IS A FULL LIST OF MODELS THAT THIS CABLE IS COMPATIBLE WITH(NOTE-CABLE IS COMPATIBLE W/ SUPPLIED PADS IN THIS AD )

PM3030,
HV-F127,
HV-F128
HV-F124,
HV-F124P
HV-125,
HV-126,
HV-F002A
HV-F115
HV-F122

These are great quality pads that work with the supplied 3.5mm lead cable. These electrode pads work with this lead cable that connects to the Omron Unit.

Pads have a thick layer of non-irritating conductive gel that adheres well to your skin, but leaves no sticky residue when the electrodes are removed.   
Pads are Reusable and fit 3.5mm snap connect lead(included)
Pads wipe clean with a damp cloth.
The Measurements of pads are: 2" x 3".
Includes 10 Pads (5 sets) and 4 snap connection lead cable with 3.5mm Plug to connect to Omron Unit.. Each set of pads (2 pads) are packaged in a resealable storage bag.
---
Share this Product
---
More from this collection